MIX 2011 - Day 2... Hump day
Today is Wednesday, the second day of MIX 2011. Just like yesterday, the day started with a keynote. This was supposed to be the big keynote session in which we would get to see some mind blowing news. I expected Microsoft to pull a huge rabbit out of the hat, which didn't happen.
The keynote was mainly about Windows Phone 7, as could be expected. Joe Belfiore announced the Mango update, which I already knew some things about. For Windows Phone, in terms of features and maturity, it's a pretty major and significant update. Let's just say that Windows Phone finally comes of age with this release, bringing the features and capabilities that iOS and Android already had. So most of the time, I was thinking… "check, iOS has that…. yup, my iPhone can do that already… etc.".
Still, some features in Mango were particularly nice, and even better than my beloved iPhone… Apps can now utilize Live Tiles much better, an important part of the excellent Metro UI philosophy. Being able to deep link to application functionality and pinning that to the home page as a tile is very nice. Microsoft calls WP7 the "glance and go" platform, which is true. They do that a lot better than iOS or Android is doing. I also liked the ability to filter apps based on a theme. For example, when you use Bing to search for movies, WP7 suggests that you might want to use the IMDB app. Very helpful in getting your work done more efficiently. Nice.
There's a good overview of the new features of Mango here.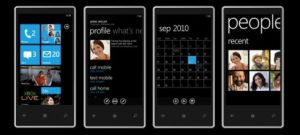 Indeed… nice, but Mango wasn't blowing me away. This does set a bar for Apple though. My trusty iOS will get an update to version 5 as well this year, and it promises to be a major overhaul of the UI. I truly hope Windows Phone has kicked their asses and this time, Apple is going to 0wn them back, haha. Competition is good, it drives innovation.
What also struck me while seeing the demos, was that the Metro UI design works really really well if applied correctly. You need a good designer to make that work well though. I see too many WP7 apps that look boring and bland because they miss that finesse that is needed to make the app enticing.
After Joes talk, Scott Guthrie came on stage to tell about the new developer tools for Mango. As always, Microsoft totally 0wns the competition when it comes to developer tools. The emulator now also supports emulating the sensors, such as accellerometer, location, etc., which is very cool. And performance profiling is also very good. The new local database and its API is also very cool (but also in this case: iOS has this already).
Next, Silverlight 5. We got pretty quick overview of the new features, which was mainly focused on consumers and media. However, we did see some nice new stuff such as conditional data templates and the improved data binding debugging facilities were pretty nice. I'll attend the Advanced New Features In Silverlight 5 tomorrow to see what else is new. Especially because there is still no word about important enterprise features such as proper support for WIF, WS-Trust, and other security features. Tomorrow will be a good time to ask about that.
Speaking about enterprise… this is one of the things that disappointed me in the Mango announcement. We have to be realistic here… Windows Phone has RTM-ed only 8 months ago, and with this significant update, Microsoft has done a pretty good job at coming up to par with iOS and Android in such a short time. But… they will need to start thinking about the enterprise very quickly. They'll need an ecosystem for rolling out in corporate apps, security policies, remote administration of devices, the more advanced security standards for web service communication (WS-*), etc. After a very nice talk with one of the program managers in the WP7 team, we learned that this enterprise stuff is on the radar, but still very far off.
The last part of the keynote was about Kinect. Very nice technology, and what's also nice is that we now have an SDK to write Kinect driven apps in .NET and XNA for Windows. There were some very nice showcases of how Kinect can be used. The World Wide Telescope was absolutely amazing! But I found it a pity that this novelty thing called Kinect was needed to really amaze me. After the keynote, all attendees got a Kinect. Very nice present, but I don't have an XBox as I'm not really a gamer. So I don't know if I would do anything useful with it… we'll see. Personally, I would much rather have that Dell laptop they squeezed into the Day 1 keynote in a very awkward way… Oh well.
The rest of this day was filled with sessions. For me, the most noteworthy session was the one at the end of the day: Back to Square One by Nishant Kothari. Centralized around the main question: "why do software projects fail all the time", we got an awesome talk infused with philosophy, scientific reasearch of the human brain, etcetera, illustrated with beautiful powerpoint slides, brought by a very inspirational speaker. The answer? People.
I also got a chance to chat with Vittorio Bertocci, who is an expert on security and Windows Identity Foundation. I got some nice hints and tips for migrating an existing application from a custom built authentication and authorization system to a more standardized, WIF based solution. MIX is very nice for opportunities like that.
We finished the day off with a meal at Hubert Kellers Burger Bar in Mandalay Place. Very nice. I got the Hubert Keller Burger, with blue cheese, spinach and caramelized onions with a red wine sauce. Yum. Do you know they even have a $60 hamburger, with truffels and foie gras? Nice! I bought an authographed copy of Kellers book as well.
We went for a walk afterwards, since we needed to go see the "Fabulous Las Vegas" sign. Here it is, in its full neon light glory…
There is one more day to go at MIX. Some nice sessions coming up, including one about Mono, which I really want to see!